All rides lead to Roam | 27 ottobre, ore 14:00
Things aren't always black and white.
In everything we do there are short, but vital moments, easily missed. Times where we choose, without knowing. Details. Emotion. Intuition. All of these define your chosen line, or your position in the frame. It's in this margin of uncertainty that the most courageous riders seek out new routes, fresh trails and untapped free-rides. It's our natural spirit of adventure that propels us to find these hidden treasures.
The earth itself drives us to explore, it pushes us to go further and see more. All rides can be spectacular if you listen to this spirit.
RIDERS: Veronika Widmann, Kilian Bron and Liam Moynihan
20 The Movie | Guido Perrini | 28 ottobre, ore 16:00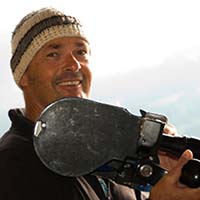 Milano Montagna Festival quest'anno ospiterà l'anteprima di 20, il film di Guido Perrini. Dopo 20 anni di film dedicati ai più grandi freeriders di tutto il mondo da Xavier de le Rue a Jeremie Heitz passando per Sam Anthamatten e Markus Eder, il regista Guido Perrini si interroga sul suo ruolo e sul suo futuro in una intensa autobiografia
Blue Heart - La lotta per gli ultimi fiumi incontaminati d'Europa | Britton Caillouette | 27 ottobre, ore 18:15
"Blue Heart – La lotta per gli ultimi fiumi incontaminati d'Europa"
Nella regione balcanica, sono oltre 3.000 le dighe e le derivazioni progettate o in via di costruzione, oltre quelle già esistenti che sono più di 1.000. Queste centrali idroelettriche, se non fermate, provocheranno danni irreversibili ai fiumi, alla fauna selvatica e alle comunità locali.
Per approfondire
Captain of Utopia | Sarah Del Ben | 26 ottobre, ore 15:00
Sarah Del Ben | 32 min | France
"François Bernard, knows as "Ben", has explored the most remote places of the world for more than 30 years: the North Pole and the South Pole, Mount Everest, etc… One day, he realized that he was tired of being alone, he wanted to be able to share all the emotions he experienced overtime, with others. So he invested all his life savings in a polar sailboat.That is the starting point of his ambitious project: Atka. He dreamt of bringing as many people as possible to discover the beauties and the lights of the Arctic. For 17 months, the boat travelled on the west coast of Greenland, carrying on board, in turn, personalities from all horizons: base jumpers, circus artists, teenagers, sick women and children to discover the icecap. As for Ben, he had no choice but to follow the expedition from a distance. He was stuck in France because he needed to find money in order to carry out Atka. It is the beginning of an amazing human adventure or how the altruism and the determination of a man can change the life of a hundred others. A deeply moving movie of humanity, bursting with generosity.
Challenging Chilinji | Fayeem Avzl | 26 ottobre, ore 15:50
Fayeem Avzl | 28 min | Pakistan
Una selezione special dai cortometraggi in Concorso ai Milano Montagna Video Awards, il racconto della prima salita di una donna Pakistana al passo Chilinji
Con i piedi per aria | Fabio Fassini | 26 ottobre, ore 14:00
Fabio Fassino | 20min | Italia
L'emozione di staccare i piedi da terra e spiccare il volo come un uccello, senza bisogno di motore ma con la sola forza del vento. Coi piedi per terra racconta il volo libero attraverso l'esperienza di tre istruttori di volo che raccontano gli esordi e il pionierismo degli anni '70, le emozioni, dai significati profondi e spirituali al mondo delle competizioni e alle motivazioni che spingono diverse persone a intraprendere un corso per ottenere il brevetto di pilota di parapendio o deltaplano. In fondo, chi è che non ha mai sognato di volare?
De-Sidera | Claudio Pesenti | 26 ottobre, ore 16:20
Claudio Pesenti | 28 min | Italia
L'alpinismo come paradigma per recuperare un rapporto autentico con la realtà (e in particolare la realtà naturale), ormai perso nell'epoca contemporanea. Il titolo "De-sidera" vuole essere un'esortazione ("desidera!") e riprende l'etimologia latina della parola desiderio (appunto "de sidera") che vuol dire "mancanza di stelle"
Duality | Alessandro Beltrame | 26 ottobre, ore 20:00
Alessandro Beltrame | 25min
Duality è il film prodotto da Vibram sulle atlete del Trailrunning Team Vibram: quattro donne, forti ultrarunner raccontano la loro vita che si divide tra una quotidianità fatta di lavoro e famiglia e l'ultra trail running. Alla proiezione saranno presenti Yulia Baykova (atleta Team Vibram) e Roberta Orsenigo (co-writer del film).
Empire of Winds | Laurent Jamet | 28 ottobre, ore 14:30
Laurent Jamet | 32min | France
Patagonia, the Southern end of South America, where the border between fantasy and reality disappears. Between deserts and mountains, Arc'teryx athletes Johannes Hoffmann and Thibaud Duchosal are embarking on a 1500 km journey to the end of the world, in company of local gaucho skier Lucas Swieykowski. Penetrating a territory where the wind reigns as master is not an easy task and reserves a lot of uncertainties.
Evolution of Dreams | Carina Brunnauer, Eva Walkner, Jackie Paaso | 26 ottobre, ore 22:15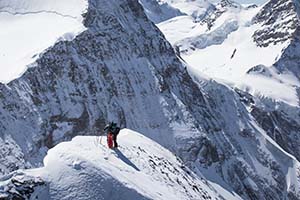 Carina Brunnauer, Eva Walkner, Jackie Paaso | 26min | Svizzera
Prosegue la saga delle sciatrici Eva Walkner e Jackie Paaso che si raccontano attraverso l'evoluzione dei loro sogni e delle loro ambizioni dalle gare di velocità allo sci fuoripista al freeride world tour
Finale 68 | Gabriele Canu | 26 ottobre, ore 16:50
Gabriele Canu | 66min | Italia
Cinquant'anni dopo l'apertura della prima via alpinistica sulla Pietra del Finale, due fratelli, appassionati di montagna, decidono di vivere un'avventura ripercorrendo le tracce dei pionieri che per primi diedero inizio alla storia arrampicatoria di questo luogo. Ne scaturisce un viaggio selvatico alla ricerca di memorie e scoperte. Un vagabondaggio in verticale per esplorare gli altipiani e attraversare le tredici principali pareti del Finalese, ma allo stesso tempo un incontro e confronto con i protagonisti di allora.
Finding the Line | Bjarne Sahlen | 26 ottobre, ore 21:30
Bjarne Sahlen | 58min | Australia
FINDING THE LINE is a film about fear, it's paralyzing grip on humans and how it affects our decision-making. Olympian and X Games Slopestyle champion Anna Segal and her Freeride World Tour, big mountain skiing sister, Nat Segal, use their skiing to understand fear and how it manifests in the two siblings' lives. Throughout their careers as professional skiers, Anna and Nat have both constantly been challenged by fear. Yet, despite being brought up under the same roof, they have learned to deal with it in almost contrasting ways, neither leading them to the success they dreamed of. A heartfelt journey on the knife's edge of big mountains throughout Canada and France push them to their physical and emotional limits. The extreme skiing mecca of Alaska pushes them beyond. The Australian sisters soon realise that the most important lessons lie within each others' approach. Equipped with greater insight, they negotiate the fine balance between staying in their comfort zone and taking too much risk, learning that sometimes to move forward, you need to understand what is holding you back.
From Caspian Sea to the top of Iran | Dario Tubaldo e Matteo Zanga | 26 ottobre, ore 18:00
Dario Tubaldo e Matteo Zanga | 7min | Italia
Iran. Aprile 2018. Benedikt Böhm, alpinista di velocità esperto, parte dal Mar Caspio in Iran, per raggiungere con 4 discipline diverse, mtb, trail running, sci alpinismo e alpinismo, la cima del Monte Damavand a 5671 metri. Le previsioni meteo rappresentano l'incognita più importante nella sua avventura.
Grivola | Dario Tubaldo | 25 ottobre, ore 23
Dario Tubaldo | 8min | Italia
Dopo tre anni questa fantastica "piramide" alpina concede la sua parete nord-ovest per una discesa con neve incredibile: protagonisti Ettore Personnettaz e Luca Pandolfi, due freerider italiani da anni impegnati su snowboard e splitboard alla ricerca di linee estreme.
Un'esperienza intensa dove fatica e tenacia si fondono alle emozioni condivise con tre amici professionisti e che descrive in maniera netta una montagna valdostana "ardua" (cit. Pascoli), e per certi aspetti "himalayana".
Hoji The Movie | Scott Gaffney | 27 ottobre, ore 22:30
Scott Gaffney | 50min | USA
Eric Hjorleifson lets his skiing speak for itself. He doesn't stand on the bar and shot out his accolades. He skis for brands that give him 00% creative control over the equipment that he designs and uses. He chases storms. He ditches his cell phone for weeks at a time. His exploits are rarely flaunted on social media. In spit of all of this – or maybe because of it – he is a her to legions of skiers across the globe. The is who Eric is – this is "HOJI." HOJI is a narrative – driven biopic. People who know Hoji's story fin his approach to life unique and refreshing, but stories like his in action sports aren't told often. Honest interviews and testimonials from friends, family, and colleagues will help to illuminate Hoji's path for the viewer. In addition to his very cool story, Eric has amassed an abundance of world – class action footage.
Itaca nel sole. Cercando Gian Piero Motti | Natale Fabio Mancari, Tiziano Gaia | 26 ottobre, ore 18:55
Natale Fabio Mancari, Tiziano Gaia | 76min | Italia
Gian Piero Motti negli anni Settanta è stato l'animatore del "Nuovo Mattino", il movimento che ha contestato le degenerazioni dell'alpinismo eroico e ha cercato di fondare un nuovo umanesimo della montagna. Pensatore inquieto, narratore prolifico e originale, imbevuto tanto dei miti classici quanto di quelli americani – tanto da essere definito "il Cesare Pavese della montagna" – ha vissuto sulla propria pelle le contraddizioni di un periodo di transizione, mettendo più volte in discussione le sue stesse tesi e cercando di ricucire, negli ultimi anni di vita, lo strappo tra alpinismo ufficiale e arrampicata sportiva che lui stesso aveva contribuito a creare. Muore nel 1983, a soli 37 anni.
Alle origini dello sci | Fulvio Mariani | 26 ottobre, ore 18:00
Fulvio Mariani | 55min | Svizzera
Dopo aver attraversato l'entroterra afghano, i registi Fulvio Mariani e Mario Casella con gli sci ai piedi viaggiano attraverso la provincia cinese dello Xinjiang, passando poi il confine con il Kirghizistan per scalare le "Montagne Celesti" del Tien Shan. Su queste antichissime montagne sono stati recentemente rinvenuti graffiti rupestri raffiguranti uomini con gli sci ai piedi, testimonianza di come, da sempre, essi siano lo strumento favorito per spostarsi in queste valli impervie.
La grave | Etienne Mérel | 26 ottobre, ore 22:40
Etienne Mérel | 16min | Svizzera
La Grave has an almost holy reputation; awe-inspiring and humbling in equal parts. Narrated by a community of locals who have been pioneering freeriding in La Grave for the past two decades, and who still reside there today, this short ski film follows Sam Anthamatten and Johnny Collinson as they discover what makes this unique ski area so mythic. Among the wild and dangerous terrain, the team discover a place of timeless legend, a place that represents a very special type of freedom.
La Luce Infinita | Marco Tribelhorn-Troublehaus | 27 ottobre, ore 21:00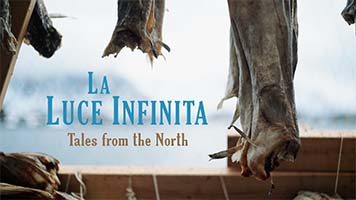 Marco Tribelhorn-Troublehaus | 15min | Italia
Arianna Tricomi went on a journey to the High North of Norway. She invited her best ski buddies to celebrate spring shredding, a World Title and the end of an amazing ski season. The action took place in Finnmark´s coast mountains around the beautiful little fisher town of Bergsfjord, where the daylight is infinite and the ocean is surrounding every peak. The film tells us about a trip to the North where a bunch of individuals who are in love with skiing come together to shred 24/7. Every character will be described from a outside voice that gives us a glimpse of their inside worlds
La promenade | Michel Dalle | 25 ottobre, ore 21
Michel Dalle | 25min | Italia
Ai piedi delle più alte montagne d'Europa, tra i "quattro Giganti delle Alpi", così vengono soprannominati il Monte Bianco, il Monte Cervino, il Monte Rosa e il Gran Paradiso, due giovani freerider: Shanty Cipolli e Simon Croux, di 23 e 19 anni, decidono di compiere l'intero giro della Valle d'Aosta con gli sci. Un viaggio di venti giorni nei luoghi più solitari e inviolati di queste montagne. La loro avventura si andrà ad intrecciare con una storia che arriva dal passato. Una storia svoltasi più di quaranta anni fa, ambientata anch'essa tra infinite distese e paesaggi straordinari della Valle d'Aosta.
Liv Along the Way | Anthony Bonello e Mike Douglas | 26 ottobre, ore 20:10
Anthony Bonello & Mike Douglas | 22min | France
Since she first summited Mont Blanc as a teen, Liv Sansoz knew she would make her life in the mountains. She was twice crowned World Champion in sport climbing, and eventually expanded her professional horizons to mixed climbing, ski mountaineering, and base jumping. In 2017, at 40 years old, Liv set out from her base in Chamonix, France to attempt to climb all 82 4000m peaks in the European Alps in a single year. As she's learned several times throughout her life, things don't always go as planned.
Loved by All | Eric Crosland | 26 ottobre, ore 20:30
Eric Crosland | 14min | Cananda
Apa Sherpa ha scalato l'Everest 21 volte, più di ogni altro. Cresciuto nella remota regione del Khumbu in Nepal, Apa è stato costretto a lasciare la scuola e lavorare come portatore all'età di 12 anni. È un destino comune per gli Sherpa del Nepal, una storia che Apa intende cambiare con il suo lavoro alla Fondazione Apa Sherpa. In questo cortometraggio seguiamo il giovane Pemba Sherpa, un bambino che deve camminare sei ore ogni giorno per andare a scuola. La storia di Pemba oggi riflette il passato di Apa.
Marcel au sommet de son art | Nicolas Falquet | 27 ottobre, ore 13:00
Nicholas Falquet | 24min | Svizzera
A 94 anni Marcel decide di scalare una impegnativa parete della svizzera romanda, in miroir d'argentine. Un'impresa simbolo che propone l'arrampicata come strada per raggiungere il meglio di se
Now or Never | Simon Plazer | 28 ottobre, ore 14:30
Simon Platzer | 28min | Austria
The two-time Freeride World Champion Nadine Wallner presents her new film "Now or Never". It gives amusing insight into the life of a girl who grew up in the world-famous skiing region – the Arlberg. It all started in her childhood, when Nadine skipped school on blue bird days to ski with a wild young group of rebelling free spirits and challenge herself – all for powder snow. Today her passion for the white splendour is still burning. Far away from the hustle of sporting competition, she discovers her home mountains from a different perspective in search of challenging lines.
Il patto della montagna | Manuele Cecconello e Maurizio Pellegrini | 28 ottobre, ore 16:15
Michele Cecconello e Maurizio Pellegrini | 72min | Italia
Il Patto della Montagna è il primo atto in Europa con cui si stabilisce la parità salariale tra uomo e donna. Avviene nel 1944, durante la seconda guerra mondiale, a Biella, il più antico distretto tessile italiano, quando imprenditori, operai e partigiani si riunirono segretamente per firmare un accordo che di fatto anticipò di molto conquiste che divennero legge a fine anni '60. Dalle passerelle dell'alta moda di Milano un giovane stilista va a Biella per capire il perché dell'eccezionale qualità dei tessuti che usa nelle sue collezioni. Incontra i luoghi, i prodotti e i protagonisti, come Nino Cerruti e Argante. Il primo è lo stilista e imprenditore famoso nel mondo, figlio di chi firmò allora il patto; il secondo è il comandante partigiano testimone di ciò che avvenne. I tessuti più fini al mondo sono ancora prodotti a Biella. Tutti gli stilisti internazionali comprano tessuti a Biella, dove sono nati marchi come Cerruti, Ermenegildo Zegna, Loro Piana, Barbera e molti altri. Il senso del film è che la qualità dei prodotti è radicata nella qualità immateriale delle relazioni tra le persone, qualcosa che non si può delocalizzare facilmente. Una metafora per l'oggi che, in ben altra crisi, deve ritrovare il senso del futuro e del patto sociale.
Shades of Winter - Connects & COUPLES | Sandra Lahnsteiner | 26 ottobre, ore 16:45
Sandra Lahnsteiner | COUPLES: 16min CONNECTS 26min | Austria
In 'Shades of Winter CONNECTS' , one of short films Shades of Winter releases in fall 2018, creative producer Sandra Lahnsteiner shows what she continuously aims for: connecting to people and environments. Her main means: sports in all its facets. Without knowing each other, pro mountain biker Hannah Barnes from Scotland and Austrian freeskier Sandra Lahnsteiner set off to a trip to Iceland together. Their plan is to explore the Troll Peninsula while doing both their sports: freeskiing and mountain biking. Hannah however, is only an average skier; how will she feel following Sandra, a pro skier with steep skiing experience, into the backcountry? Willshe be able to leave her comfort zone, and how can Sandra support her? Vice versa, Sandra will chase the mountain bike girl on the challenging single trails in the vast country of Iceland. By putting on the others' shoes, the athletes show unseen vulnerability when things turn messy and stressful. The film 'Shades of Winter CONNECTS' prompts the audience to connect and identify with Hannah and Sandra and become excited to see how they cope with the challenges along the way.
With 'Shades of Winter: COUPLES', one of the short films Shades of Winter releases in fall 2018, creative producer Sandra Lahnsteiner (AUT) introduces a new aspect of her female action sport protagonists when Janina Kuzma (NZL), Julia Mancuso (USA) and herself bring along their spouses on a freeride trip into the wild mountains of British Columbia, Canada, at Stellar Heliskiing for the first time ever. As professional athletes the ladies are constantly faced with the risks and challenges of backcountry skiing, overcoming vulnerability and fear, experiencing adrenaline rushes and absolute joy. But did they ever think how their spouses feel about them being out there in these wild mountains? Together, in 'Shades of Winter: COUPLES' they all explore the Purcel & Selkirk range in Canada, BC, sharing the fun as well as the expertise and loads of big smiles.
Sky Piercer | Jason Hancox | 28 ottobre, ore 17:00
Jason Hancox | 45min | New Zeland
New Zealand is the land of adventure and "Sky Piercer" sees World Champion athletes Xavier De le Rue, Nadine Wallner and local Sam Smoothy take on the iconic peak of Mt. Cook. With three weeks to prepare and scope the West face, Xavier and Nadine are confident that they will have the opportunity to tackle the mountain, but local Sam knows that weather in New Zealand is not so kind. As they wait for a weather window the trio adventure around the south island, surfing in the Caitlins, climbing and biking in Lake Wanaka, diving for Crayfish on the West Coast, bush-wacking and climbing to lines high in the alpine but the time is passing. With a short pocket of weather opening on the final days of their stay, the team head out in gliders to get a good look at the face and define their lines. From the air the face glistens, hinting at the ice below, most people tell them they will not achieve the top and will have to turn back. Leaving the hut just after midnight the team start their ascent in a howling gale, morale is low and they don't feel they will make the top, but with 24 hours left, they have to try.
Structures - Ski track in the cultural landscape | Hanno Mackowitz | 28 ottobre, ore 15:00
Hanno Mackowitz | 12min | Germany
The commercial film director Hanno Mackowitz, a native of Vorarlberg and living in Innsbruck, now and then produces a freeride art-housefilm,in which he sets new accents in form and content. For the past two years he has been filming with freeride world championLorraine Huberfrom Lech am Arlberg.Result is the artfilm "Struktur". In his film, Mackowitzfocuses on the increasing human impact onnature and the man-made structures in the natural space using theexample of Arlberg, Austria's largest interconnected ski area and one of the most significant in the world.Lorraine carves her turns in perfection, meticulously captured and represented in an aesthetic picture language. Guest: Lorraine Huber
The Clean Approach- Essere Outdoor | Alfredo Croce e Luca Albrisi | 28 ottobre, ore 15:00
Alfredo Croce e Luca Albrisi | 43 min | Italia
Possono un paio di sci d'alpinismo o una splitboard contribuire a farci percepire come parte del tutto? E appoggiando le mani sulla roccia possiamo arrivare a intuire la nostra posizione nel mondo? The Clean Approach è un documentario sulla riscoperta del profondo rapporto tra uomo e natura attraverso la pratica di attività outdoor sostenibili. Se da un lato le pratiche outdoor possono essere un mezzo per aumentare la presa di consapevolezza degli esseri umani riguardo alla propria, effettiva, appartenenza al mondo naturale – portandoci quindi ad una visione biocentrica dell'esistenza – dall'altra, se praticate senza consapevolezza ambientale, possono a propria volta rappresentare un impatto sull'ecosistema. Il viaggio di tre appassionati di "clean" outdoor attraverso le quattro stagioni e attraverso alcune aree naturali protette, accompagnano una riflessione filosofica, antropologica ed emozionale sull'appartenenza umana all'ecosistema e sul concetto di "limite" nelle sue diverse forme. Un'avventura alla scoperta di quei luoghi dove uomo e natura si incontrano senza maschere per conoscersi in modo più profondo e riconoscersi l'uno nell'altra.